Utah Water Filtration Systems and Service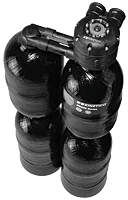 Whole House Filtration System
Kinetico's whole house water filtration systems are designed to provide a continuous supply of soft, filtered water at every tap in your home. Utah's hard water contains unwanted minerals as well as chlorine or other pollutants that can stain clothes, cause dry skin, create objectionable odors, and ruin appliances in your home.  If you have these types of issues with your water, a Kinetico water filter or water softener just might be the answer to your water troubles.
Using a Kinetico water filtration system is the most effective way to remove the odors and unwanted pollutants from your water.  A Kinetico soft water system is not only effective at removing impurities, but it also is resource and energy efficient.  Kinetico water softeners use up to 75% less salt and water than traditional water softeners. There are no timers or computers that require maintenance and repair. Designed by the trusted provider of water filters in Utah, Kinetico systems can provide conditioned, clean, soft, filtered water from your tap 24 hours a day.
Kinetico water filtration for Salt Lake City homes can be customized to meet your household's exact needs. Our Utah team has more than 40 years experience in providing effective water filtration systems for both culinary and well water homes. Contact Kinetico Utah today to learn more about how our whole house water filtration systems can help you and your family.
Do you know what is in your water? Here is a list of the minerals that are in your water:
Carbon

— Most municipal water providers add chlorine to the water to eliminate living organisms like bacteria that could be in the water. More than just making the water smell like a swimming pool, chlorine can cause dry itchy skin, rubber gaskets and o'rings in plumbing fixtures to deteriorate, and has been linked to other health issues. There is a growing body of evidence that we may actually absorb more chlorine through bathing and showering than we do through our drinking water. As a trusted provider of water filtration for Utah homes, Kinetico offers cost-effective solutions to remove the chlorine and deliver soft water to your entire family.